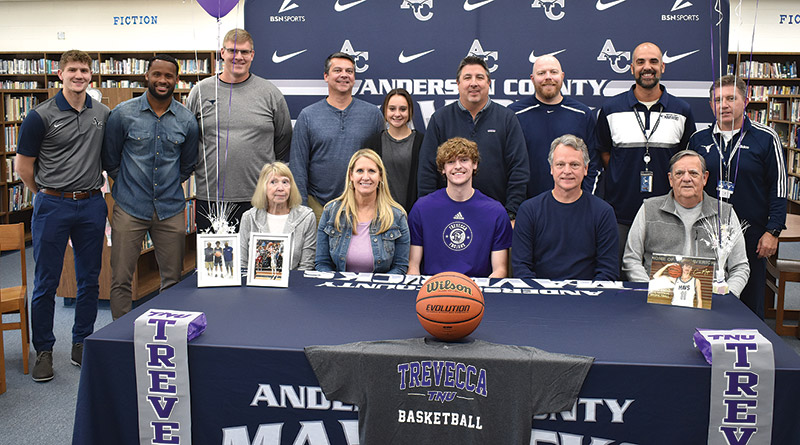 Derek Wallace knew he had something special.

Not Derek Wallace the head basketball coach at Anderson County High School.

Derek Wallace, the teacher of advanced-placement (AP) history at Anderson County High School.

"That was my first introduction to Conner Martin," Wallace said. "I knew right then he was going to be a special kid."

Wallace said that as a freshman, Martin was just "a big kid." He had good size but he needed to work.

And work Martin did.

Last Wednesday, Martin signed his national letter of intent to play at Trevecca Nazarene University in Nashville.

"They're getting a steal," Wallace said.

The last 18 months have been a journey for Martin. He started working out with Dominic James, the standout player from Marquette University.

It was a hard 18 months.

"He listened. He worked hard," James said.

"I've watched this young man grow not just physically, but spiritually in the last year and a half. He has prepared himself to play basketball at the next level. I think he'll do well."

Martin reshaped his body. He toughened up.

But one thing didn't change — his faith and his humility.

"First, I need to thank God for giving me the gifts I have," he said before signing his letter. "Coach Wallace has been great to play for. Dominic has been a true inspiration to me."

Martin said he hopes he'll be able to contribute as a freshman for the Trojans. "I think I'll see some playing time, but you never know."

His high school coach said Martin should definitely be able to make an impact early.

"He's reshaped his body and learned how to work hard," Wallace said. "Dominic has been a big part of that. And he's made himself into a good ball player. He has a wing span of about 6-11 and he can use it."

There were "several" schools looking at Martin and making offers, but he said once he visited the school's Nashville campus and met the people there, he was hooked.

"It's a good fit for me," he said. "It's the place where I feel I fit in best."

And the school is close to home, something his mother, Kim, pointed out.

"It'll be a day trip to watch him play," she said. "I think it's a great fit for him.

"I know he's worked so hard for this, especially during the last year and a half."

Martin said he plans on majoring in engineering. Or maybe in something in agribusiness. He's not sure yet, he says, but it'll come in time.

And when it does, Martin will work at it, and work hard.

"He prepared himself for the next level," James said.