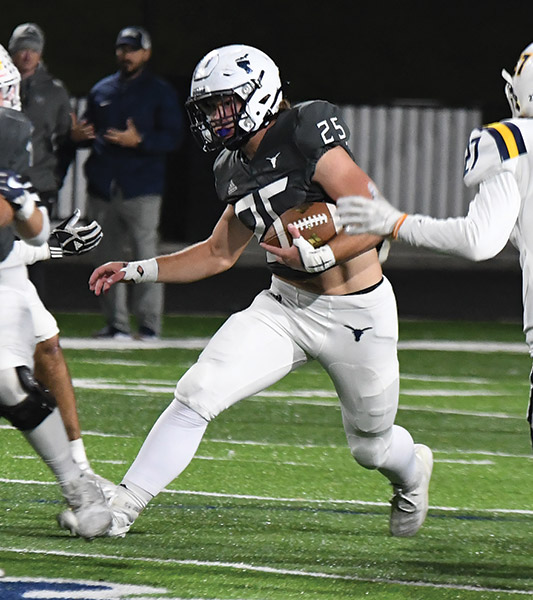 Last week, Gavin Noe, Anderson County junior running back, was named to the Tennessee Football Coaches Association's All-State team.

It was not new territory for Noe, who was named to the Tennessee Sportswriters Association All-State team as a sophomore — the first, and to date only, sophomore in the history of Anderson County High School to win All-State accolades.

"That means a lot to me because I compare myself to those [ACHS] players I grew up watching," Noe said. "I watched those games and developed relationships with those players."

He grew up on the Mavs' sideline. His oldest brother, Trey, was a standout lineman for Anderson County, himself a two-time All-State selection (as a junior and senior) and currently an offensive lineman at Davidson College. His older brother Jaxon just completed his senior season as an offensive and defensive lineman at ACHS. And his family roots in the program run even deeper. His father Richie was a standout for the Mavs and walked on at the University of Tennessee, playing for the legendary Johnny Majors.

"It's special," Richie said of the most recent All-State honors. "Anderson County's given all three of my boys different experiences. They've all three thrived under the coaches and the leadership they provide out there. For Gavin, he's just a very driven young fellow. You could see it as he was growing up. I hate to say it about my own kid, but nobody works harder and nobody hates to lose more. He'll pretty much do whatever it takes to win."

"He's our leader in the locker room and sets the tempo. He is kind of the catalyst for this group. He's the first guy in and the last guy to leave. He's a vocal leader and anybody who's watched him play really, if they're a football fan, appreciates the way the kid plays to win whether it's running back, linebacker, or whatever. He gives it everything he's got, just tons of energy," said Davey Gillum, head coach of the Mavericks.

So who are the players Gavin grew up watching and had such an influence on him?

"Tyler Hicks. Matt Fox. Trey. All of those guys. The one that really pulled my heartstring was Andy Long. He suffered an injury his senior year and was in so much pain before a game there would be tears in his eyes and he would go out and carry the ball 30-35 times. I remember a game against Powell and I don't even remember if we won, he ran it straight up the middle and took it to the house in a game where he had been pounded all night. That was the guy I really looked up to. I was like, 'That's the guy I want to be'," Gavin said.

"No matter what injury or sickness I had, I have to play through it. That's what I take away from that memory of Andy," he said.

"It's funny to me because I've coached a lot of these kids and been around them. On Friday night he would come in and say, 'Marquise Gallaher texted me. Tyler Hicks texted me or Bryson Phillips texted me. He'll name some of these guys he grew up watching and now they text him back. It's a special place," Richie said.

And what are Gavin's thoughts on a potential third All-State selection?

"Being named All-State is nice but I'm more into team goals. You've got to win the games. You've got to win the region championship to get good seeding. You've got to win those tight games. I really want a state championship and I really think we have a team that can do it if we want to put in the time," he said.

His attitude concerning the team winning games is reflected in what his dad said about a recent conversation between the two.

"I asked him, 'Do you think you've done well enough this year to put up a stat line that would have made you an All-State player?' His response was, 'I'd rather won two or three more rounds of the play-offs.' And then just walked away," Richie said.

Some colleges have shown an interest but Gavin remains tight-lipped about specific schools, preferring to focus his attention on preparing for the 2022 season.

For the 2021 season, Noe had 1,492 yards on 246 carries for 15 touchdowns and an average of 6.1 yards per carry.