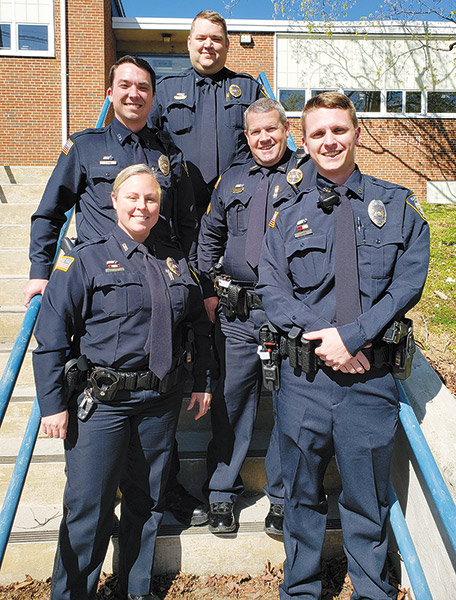 When a mental-health crisis results in the dispatch of police officers and other first-responders to a scene, the outcome sometimes involves violence.

But the Clinton Police Department is a leader among area police and emergency agencies in training its officers in how to defuse such situations without anyone getting hurt.

Of the city's 34 sworn police officers, 17 have now completed a special 40-hour course in "crisis intervention training," and Police Chief Vaughn Becker said his goal is to have all of those officers complete the course as soon as possible.

The Clinton department recently hosted one of the weeklong training sessions, which included 23 first-responders from the local area – and among those were five Clinton officers.

Recently completing the course for the Clinton department were Sgt. Luke Hughes and officers Tylor Gann, John Gallups, Jennifer Hutchins and Jake Horn, according to Becker.

Conducted at the Clinton Community Center, the course focused on "helping people in crisis get the services or assistance they need in a safe and efficient manner," the chief said.

"During this training, officers and other public safety personnel learn techniques to communicate with people that are mental health consumers within our community," Becker said. "The training also focuses on de-escalation with the use of minimum to no force. The key to this training is empathy.

"We're required to do more and more with the mentally ill," he said. "This is a way for our officers to be better trained. And we've seen already how well these techniques work. They show how we can change a situation with better communication.

"I've seen them use it, and it's amazing what a difference it can make," Becker said. "We recently had a situation with an armed man barricaded inside a house. We talked to him from outside his house for an hour, and we were able to resolve the situation peacefully, and to get him the help he needed."

Clinton Police Lt. Brandon Floyd is one of the program's instructors, Becker said. "He's been an instructor in the program for several years."

"The course is quite good, and even involves role-playing," the chief said. "They can practice the techniques they are learning."

Besides police officers, the recent Clinton-hosted sessions also included some Anderson County EMS first-responders, Becker said.

"Oak Ridge, Alcoa, Knoxville and Anderson County ambulance service people participated," Becker said. "I was impressed that EMS personnel were participating in this. I think that's very helpful.

"When we truly know and understand those we serve, we are most efficient at protecting and helping them," he said.