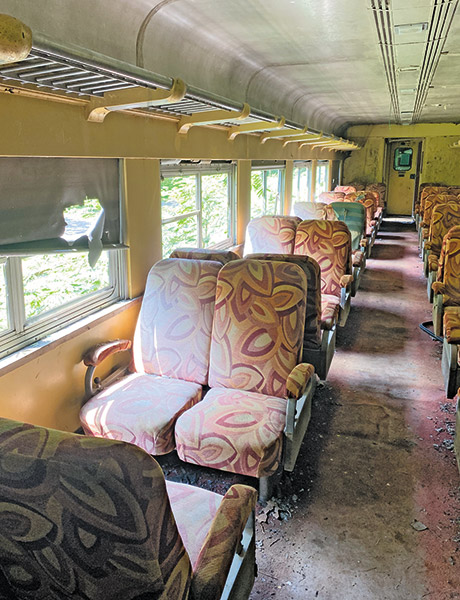 Rehabilitating an historic rail line through East Tennessee's New River Valley to create a tourist railroad operation could bring in millions of dollars in new revenue annually to rural areas of Anderson, Scott and Campbell counties, according to a report on an EPA study released this week.

The report suggested that nearly $3 million in ticket sales alone could be generated by the scenic rail line, along with more than $1.5 million in annual new retail sales along the line, $50,000 and up in new local taxes generated each year, and at least 104 new permanent jobs created.

Franklin, Tennessee-based Civil and Environmental Consultants, Inc., conducted the study to gauge the potential positive economic impact of rehabilitating and reopening the 42-mile former Tennessee Railroad line from Oneida to Devonia, in far southwest Anderson County.

The rail line's current owner, Kentucky-based R.J. Corman Railroad Co., has been seeking to abandon the rail line and pull up its tracks since early 2019.

But Anderson County Mayor Terry Frank has been leading a legal battle to keep the rail line open, and has been successful so far in at least temporarily blocking R.J. Corman's efforts to seek federal Surface Transportation Board approval to abandon the line.

Frank is chair of the Northeast Tennessee Rail Authority, which includes Anderson, Campbell and Scott counties and is dedicated to preserving and promoting the railroad assets in the region.

"I'm extremely thankful for this EPA grant that allowed this study to take place," Frank said Monday, shortly after she received the report. "It has given us lots of useful information.

"All along, we felt like saving the rail line would be beneficial to the area," she said. "This put some numbers behind what we felt was a great opportunity. They gave us the next steps, locally and working with other officials and private entities, that we need to take to make this a reality."

The report noted that "passenger scenic rail service must be the backbone of the utilization strategy," although some non-passenger commercial use of the rail line also would be likely to occur.

"Numerous stakeholders expressed that although there were numerous potential additional economic opportunities associated with this concept (such as railcar storage and commercial rail utilization), the scenic rail strategy was most beneficial and most supported by those in and around the area," the report said.

"There is a great local pride of place, and the scenic rail service option enhances that pride, while preserving the privacy treasured by local residents."

A previous brief experiment with a tourist train on the line was also mentioned in the study: "This concept was tried, in a small-scale form, several years ago, and was immensely popular," it said.

That was referring to the New River Scenic Railway that operated from Huntsville to Devonia from 2008 until it was ordered shut down by R.J. Corman in 2010, shortly after Corman bought the line from National Coal Co.

That train, including an engine and two passenger cars, still sits on a siding at Devonia, behind an abandoned coal-processing plant. It has been severely damaged by vandals over the years it has sat idle.

The study noted that Devonia, a former coal-mining community on Fork Mountain near the Anderson County border with Morgan County, is just a short distance from the former Brushy Mountain State Prison, which has been turned into a tourist attraction and distillery.

It suggested that as the end of the rail line, Devonia could be linked to Brushy Mountain prison by shuttles or even a chairlift to create a tourist destination for the rail passengers. The report also mentioned that the Windrock off-road driving park, also close to the rail line in the Devonia area, could be tied in with scenic rail activities.

"Special rail trip events would be very successful," the report said. "The area would benefit from additional holiday amenities – like a Polar Express train, for example. Dinner-oriented train trips could help support local restaurants, while encouraging repeat usage from local customers.

"Special trips could also dovetail with local tourism efforts … accommodating area history buffs, the birding communities, hunters and fishermen, etc."

The report also took a major swipe at R.J. Corman for its continuiing absolute resistance to selling the rail line to anyone else, and particularly to anyone contemplating using it for tourist trains.

"Over the last decade, numerous attempts have been made to acquire the [rail line] for scenic rail purposes, including a recent offer of over $2 million by a well-established owner/operator of scenic railroads," the report said. "This is significant as it shows that the community vision is economically viable and significant enough to attract private investment and operational support."

But the report continued:

"Despite the strong local support and logical plan for investment and implementation, none of this is possible without control of the railroad alignment. Site control is currently possessed by a company [R.J. Corman] intent on ripping out all of the rails for scrap value and for a tax credit that will help pay for additional rail development elsewhere in their property portfolio.

"This vision is deeply antithetical to the community vision, of course, but also would render the project much less feasible once the rail lines were gone."

The report noted that people in the area of the rail line who want to see it redeveloped believe that R.J. Corman is operating against them.

"Stakeholders have expressed deep frustration that outside interests are once again trying to come into the community, strip the resources, and leave nothing behind to benefit the community," the report said. "So there is strong awareness and a strong fight going on against this proposal. However, the law is largely on the side of the current property owner, and it may take political intervention to stop the rail-scrapping plan."

The report suggests that local supporters of the rail line rehabilitation should form a task force to promote the scenic rail proposals, and to seek support from state and federal officials to help facilitate the transfer of the property from under the control of R.J. Corman.

"My next step is to share this report with the [Anderson County] Board of Commissioners and then do outreach to other officials," including members of Congress," Frank said.

"We have had some help from [U.S. Rep.] Fleischman and [U.S. Sen.] Hagerty," she said. "I do want to share this with them, hoping maybe they can help further the conversations. I will also call a meeting of the Rail Authority."

Frank said she also intends to share the report with officials from R.J. Corman, which also now operates the former Norfolk Southern Railway routes through the Clinton area into southeast Kentucky.

"I am hopeful and optimistic that R.J. Corman will see valuable, new opportunities for revitalization of this line, especially now that they're operating another line through Anderson County," the mayor said.

On April 15, the five-member Surface Transportation Board unanimously granted a request from Anderson and Scott counties to prohibit R.J. Corman from pulling up the tracks and ties of the former Tennessee Railroad line, which dates to the late 1880s.

The two counties asked for the delay last June as they continued to fight R.J. Corman's planned abandonment of the line.