Brittany Bishop reflects on her progression following the NCAA championships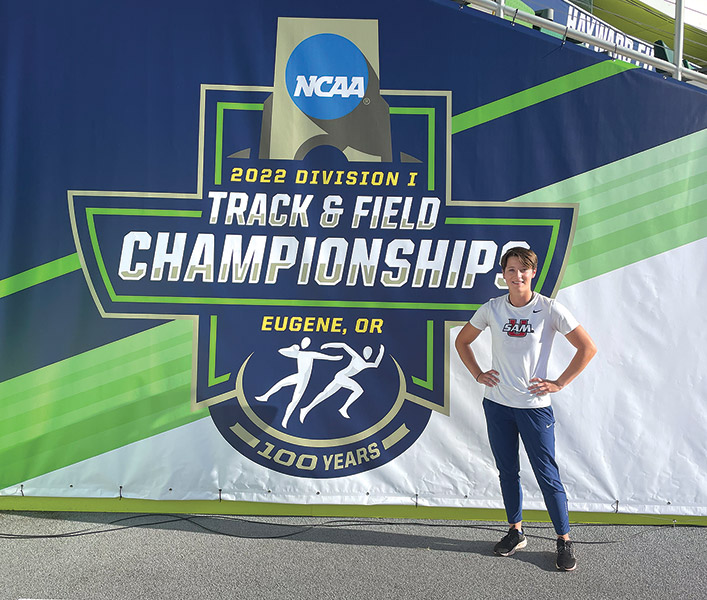 Anderson County High School alumna Brittany Bishop competed in her first D1 NCAA Outdoor Track and Field Championships in the women's pole vault last Thursday.

The Samford junior finished 21st among some of the best athletes in the country, but still feels like she has much to prove moving forward.

"On the day of the competition, it was really overwhelming," Bishop said. "There were a lot of people there and the stadium had a lot of energy, something I wasn't very used to or prepared for, and I think it affected me going in."

Bishop's achievements at the championships are not to be taken lightly, however. Her performance was enough to earn her honorable mention All-America status. Bishop hopes to use the experience as a building block moving forward with two years of eligibility left.

While Bishop qualified for the NCAA Championships, she says her college career has come with its fair share of adversity. In high school, Bishop was on top of the track and field scene in Tennessee, earning a plethora of honors as well as holding the state record in the pole vault.

Bishop's work ethic in high school led to her success at the high school level and ultimately brought her to a Division I school. She has since had to reset and work her way up the ranks at the national level.

"Coming out of high school, I felt like I was on top the world," Bishop said. "I came in thinking college was just going to boost me up higher and I was going to feel great. It was actually the exact opposite."

She said that the confidence she had was completely lost competing against people who were the best in their states as well. The mental side of pole vaulting got the best of her, and she had to work to begin regaining the belief in herself that she once had.

"Coming to terms with the fact that I did not have the same confidence and that I wasn't doing as well as I had hoped I would was really hard," Bishop said. "I told myself that this was my reality now, a switch wasn't suddenly going to flip to where I would be back to where I was in high school."

Upon this realization, she was able to find a way to work back towards self-confidence. She began practicing before classes and experimenting with different techniques such as grips and pole sizes to ensure that she could perform at the best of her abilities.

"I had the mindset of 'this is what I want to do and I'm not going to let my mind take that opportunity from me,'" Bishop said. "I know I am fully capable and I wasn't going to let it set me back."

Bishop hopes to send a message of perseverance to all athletes through her experiences at the collegiate level as she looks to improve upon a successful season.