Gavin Noe commits to the U.S. Naval Academy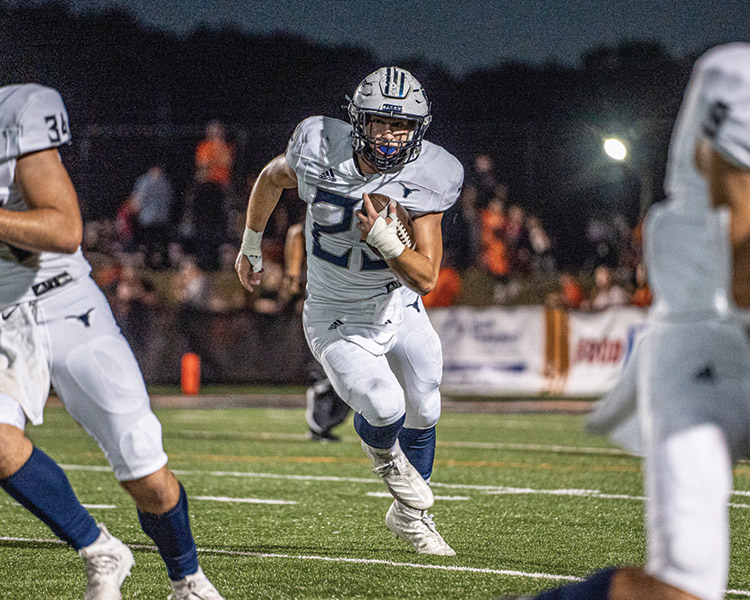 After being in the recruitment process with multiple Division 1 schools, upcoming senior running back Gavin Noe of Anderson County High School has chosen to play college ball at the U.S. Naval Academy.

Noe and his family have been no stranger to college athletics. His brother, Trey, plays at Davidson, and his dad, Richie, played as a walk-on at Tennessee under Johnny Majors.

Football certainly runs rich in the Noe blood.

After considering offers from schools such as Marshall and Memphis, Noe ultimately decided that being a Midshipman was the right move for him and his future.

"Coach Ingram from Navy came, and his pitch was just different than a lot of the guys who recruited me," Noe said. "He talked a lot more on the aspects of the Naval Academy and what they could do for me in the future."

"Coach Ingram said, 'You can do just about anything you want to do here, there's no limit. If we don't have what you want, you can graduate here and we'll pay for you to go somewhere else.' It just blew my mind that they were so focused on me succeeding in life."

Noe said that the city of Annapolis and the rest of the staff was another thing that sold him on Navy. He drew on the experiences passed from his father and brother to help with his decision.

"I knew exactly what I saw would be what I made my decision off of," Noe said. "When I got to Navy and saw for myself, I saw all of the facts that I needed to see. That's really what I picked up from my dad and Trey: Find a place that will be home and that you will be accepted at, and you will feel comfortable in that environment."

While he still has his senior year ahead of him with the Mavericks, Noe is beyond thankful to the staff and community around Anderson County for preparing him for the next level.

"I grew up always loving this place and this community," he said. "The best way I can say this is the coaching staff has pretty much raised me, and when you look up in the stands and have a personal connection with almost every single person up there, that's special. You know you aren't just out there playing for anybody. Your friends, family, everyone is behind you."

Navy boasts a run-heavy scheme where Noe will get opportunities to show his skills as a player. He will also get opportunities to show off his character serving in the Navy while in Annapolis.

Noe will suit up for his senior season as a Navy commit as the Mavericks boast a talented roster poised for a deep run in the postseason.