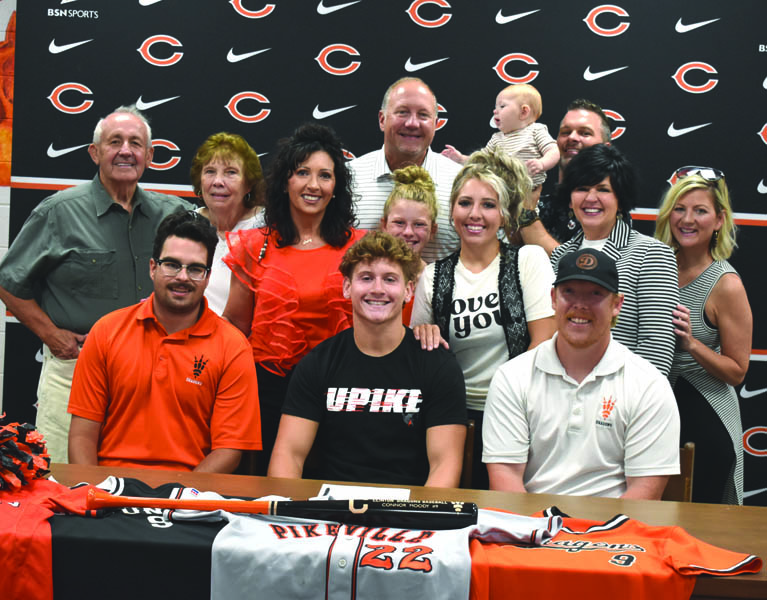 Connor Moody doesn't seem like much of a dreamer.

He's not starry-eyed and sitting idly by wishing and hoping something good will happen to him.

He's worked his tail off.

Last Thursday, Moody made it official — he signed his letter of intent with the University of Pikeville in Pikeville, Ky., to play baseball.

"It's a dream come true for him to go to college and play ball," his father, Kevin Moody, said. "He's going to miss Clinton though. He's Clinton through and through."

Connor Moody said he connected with the campus and the coaches on a visit to UPike last spring.

"I fell in love with the campus, the school," he said. "It just felt like home."

Connor said he hopes to walk on next year for the UPike football team — he was still at Clinton High School when spring drills were held this year.

"I want to because I love the sport so much," he said.

But's it's his baseball tools the coaches at Pikeville looked at.

Moody had several recruiters trying to talk him into joining their programs, but his coach at CHS, Rob Stacy, said he thought his star was well suited for Pikeville.

Because, well, Stacy is a Pikeville alumnus.

"I'm pretty excited because it's my alma mater," Stacy said. "And I think one of the things that attracted Pikeville to Connor was that he led the state in stolen bases this last year."

And Stacy said he and Connor are kind of cut from the same cloth.

"Like me, I played sports and did just enough to get by," he said. "And then I realized that playing sports could make a difference in my life, that it was something that would allow me to make money, earn a living.

"He took care of stuff in the classroom."

It's a work ethic that Connor Moody carried to his teammates.

"He always knew when to talk to the guys who were struggling, how to talk with them, when to talk with them," Stacy said.

Moody says he has a chance, if he works hard, to see some playing time as a freshman.

His high school coach says that's a real possibility.

"I feel good sending one of our guys there, because I know they'll take care of him 100-percent," he said.

The rest will be on Connor Moody's work ethic, and there is no worry there.