Hawks take season opener loss at the hands of Robertsville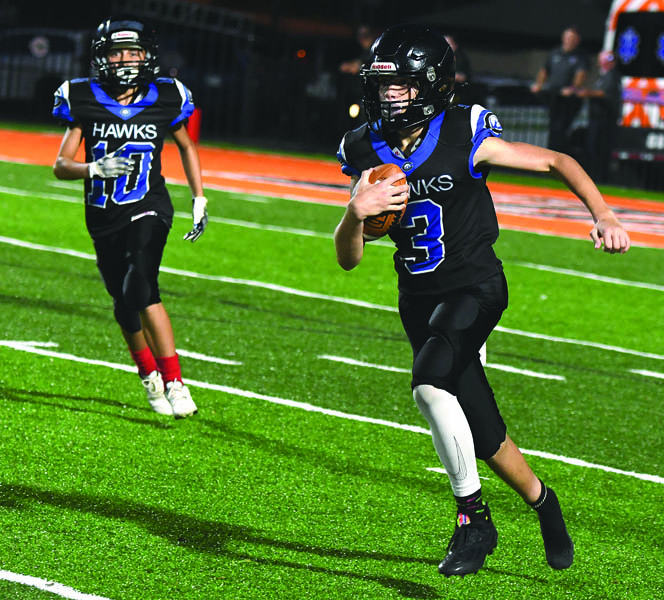 Two of the three area middle school football teams opened their 2022 seasons last week.

Norris Middle and Clinton Middle kicked off their respective campaigns Thursday with mixed results.

The Senators notched a season-opening victory Thursday as they outlasted Lenoir City 16-14.

A big defensive fourth by Norris propelled it to victory.

"They had the ball inside our 20-yard line three times in the fourth quarter and we held them out all three times," Senators Coach Richie Noe said. "We had three guys on defense that came up big.

"Vance Young, Caysen Kuriger and Cassen Sawyers made some big tackles for us."

The Senators scored their first touchdown of the season on an explosive special teams play as Matthew Agee took the second-half kickoff and returned it 65 yards for a score. Norris converted the ensuing two-point conversion when quarterback John David Gillum completed a pass to Zach Happney.

Norris scored the eventual game-winning touchdown when Kaden Webber scored on a run from eight yards out. The Senators made the two-point conversion that would provide the winning margin when Gillum connected with Agee.

Some key players on the 2022 Norris roster, according to Noe, include Agee (a wide receiver and kick returner), Gillum (at quarterback); Webber; Happney (a hybrid wide receiver and running back); Young (offensive lineman/defensive lineman); Kuriger (slot back/free safety); Sawyer (wide receiver/safety); Liam Welch (a two-year starter at offensive guard, who stands 6-0 and weighs 270 pounds) and Gavin Waddell (wide receiver/defensive end).

The Senators (1-0) return to action Thursday when they travel to Oak Ridge to take on Jefferson.

Hawks fall at home to Robertsville: Opening the 2022 season at home, the Hawks came up on the short end of a 38-12 decision to the Rams.

Clinton was bitten by the turnover bug, according to first-year head coach Justin Hite.

"We turned the ball over and every time we got some momentum, we shot ourselves in the foot," Hite said.

Quarterback Jaylon Daniels accounted for both Clinton touchdowns as he had a 62-yard scoring strike to Brailen Robinson in the first quarter. Daniels also scored on a 4-yard run in the final frame.

Although the Hawks have already kicked off their season, Hite said that Clinton remains a work in progress.

"We're still trying to figure out who we are," Hite said before the loss to Robertsville. "We have some experience in some spots but we're also young at some other spots.

"We've had 40-45 kids showing up at workouts and I wouldn't be surprised if we don't get some more players out once school starts."

Top players for the Hawks, according to Hite include: Daniels; Cameron McCaffrey (running back); Robinson (running back/slot back/defensive back); John Braden (offensive lineman/defensive lineman) and Seth Carroll (offensive lineman/defensive lineman).

Lakers to open season on Aug. 18: Lake City will begin its 2022 season at home against Jellico on Aug. 18. Kickoff is slated for 6 p.m. and the Lakers have a new head coach as Eric Tackett takes the reins of the program.