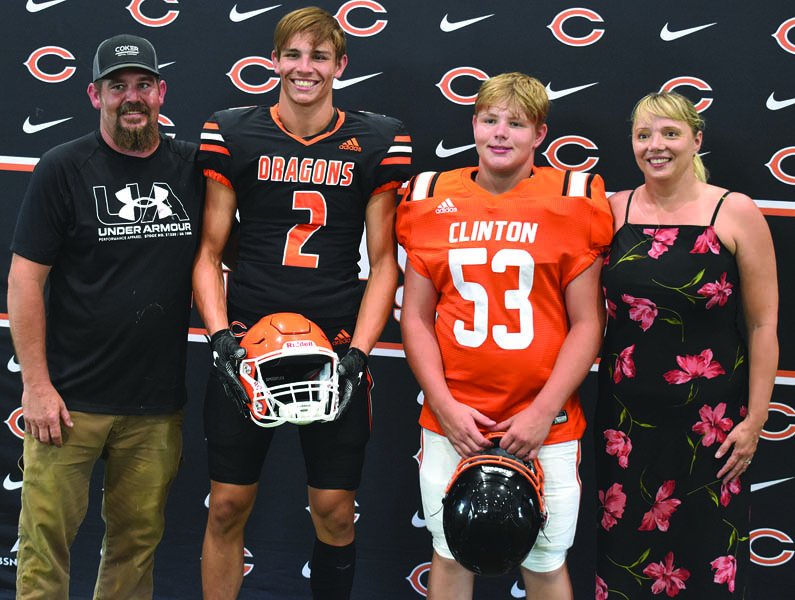 It's about football, but it's not about football.

It's not about winning and losing, but wins and losses are such a big part of the overall story.

It's about community and how one single aspect of that community can bind it together.

It's Clinton High School's Team 100 — a century of CHS football that is bigger than the sport itself.

"We're a part of Clinton's history," Dragon senior Chase Glandon said during the Dragon's Media Day in July. "The players before us paved the way to where we are now." The 2022 version of the Clinton Dragons' media day was put together by Dragon Head Coach Darell Keith.

In his third year at the helm of the Black and Orange, Keith said media day's intent served a number of purposes.

"Clinton has a rich history," Keith said. "And now you can add 100 years of football."

The day was used to showcase the 2022 team — a chance for any and every one to visit the Joe Hollingsworth Sportsplex on the campus of Clinton High School — and talk with the players and coaching staff.

It was also used to honor former Dragons, to give the 2022 squad the opportunity to talk with them, to find out what it means to be a Clinton Dragon.

A number of players from the state runner-up 1992 Dragons were at the event. They talked with the players — many of them sons or nephews.

"They are the standard," Keith said of the 1992 squad. "They reached the big dance representing this city."

In 1992 the Clinton High School Dragons made it to the state football playoff finals.

Clinton is, in many ways, your typical small southern city. Life centers around family, church, and school. Yes, there's more than one red light, but the sidewalks do roll up about 7 p.m. each night.

It's a quiet city.

Until Friday nights in the fall. It doesn't matter how the Dragons are doing in a particular year, Clinton Football Stadium will be filled to the brim come Friday night. It's like all of the pent up energy from during the week needs an outlet and Friday night provides it.

It may be coincidence that Team 100 finds itself in a sort of football Renaissance under the leadership of Keith.

"He's ex-Army so he knows how to build up young players and instill confidence in them," Matt Hagan, a videographer, media specialist, and CHS graduate said. "He does some crazy things, but it works."

Hagan has volunteered his talents in shaping a new face for the CHS Dragons through social media. His Facebook and Twitter feeds are viewed by thousands and many media outlets turn to Hagan when they have a question about the team.

But Darell Keith is the straw that will stir the drink for Team 100.

"It's a blessing," Glandon said of his coach. "He's turned this program around. He's made us (the players) better men, better students, and better football players."

There are more important aspects in life than sports.

But in a community where playing a game is generational, sports are a good way to connect with each other, to start conversations, to learn about each other.

Finding records from that first Clinton High School team — The Tornadoes — in 1923 may be hard to track down. Sometimes 100-year old sports records don't stand the test of time.

But a senior in 2022 can talk with his parents, his father, about what it takes to be a Dragon because his parents, his father, have that experience from 10 years or 20 years ago.

And that's a building block in a relationship.

Take Wesley Kendall for example. He's a former Dragon footballer and he attended media day in July because he has two sons on Team 100: Senior Lucas and sophomore Dalton.

Wesley also helps coach the CHS wrestling team and his wife, Elizabeth helps with the scoring for the squad.

Their blood runs Black and Orange.

"Get in there and get your picture," a photographer called out to Wesley.

"Nah, I'm in my work clothes. I don't have a jersey," he replied.

"Doesn't matter. Get in there. You're a Dragon," the photographer said.

It sounds cliche. Maybe something from a television show or a movie — but once a Dragon, always a Dragon.

And people do mean it when they say, "DFL —Dragon For Life."

It's a community thing.

For the remainder of the 2022 football season The Courier News will bring a story, a recollection, a history each week about the past 100 years of Clinton High School football.

The final segment of this series will be the unveiling of The Courier News All-Century Team.

If you'd like to nominate a former player for the team, please do so via e-mail to ken.leinart@mycouriernews.com.