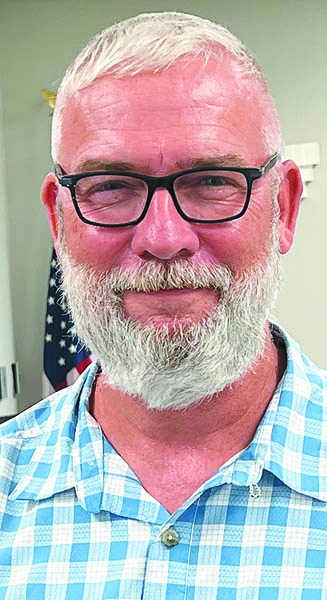 Kerry Templin will face Rocky Top Mayor Timothy Sharp in the Nov. 8 general election for a four-year term as mayor.

Templin says he's a lifelong resident of the area whose father, George Templin, served as mayor and city councilman in the 1980s, and ran Cooper Supply Co., a former local hardware store.

"I was born and raised here, and have lived within a two-mile radius of Lake City for 56 years, said Kerry Templin, who is 60.

"My father was on council and was mayor in the '80s, and because of that, I had always sworn I would have nothing to do with politics," he said. "But I can't stand the direction I see this city heading, and I feel like I can't just sit around and do nothing. If I feel I could have done something, and I didn't at least try, I don't think I could live with that.

"I've had a few people approach me and urge me to run," Templin said. "There's a lot of dissatisfaction in this community right now, and folks don't feel this city is headed in the direction it should be."

In particular, Templin said he believes something must be done to eliminate what he sees as open drug use in the city by street people.

"The public drug use has got to stop," he said. "We have probably visited 350 or 400 folks since we started campaigning, and the general consensus is that the citizens are tired of these people.

"They are tired of finding needles in their yard, which makes it so their kids can't even go outside to play. They're tired of finding dead people in their yards. I won't even let my wife get gas at Weigel's because of the druggies hanging out there. No one has to deal with that in Clinton or Oak Ridge."

Templin said he also wants to see the city take better care of the streets.

"The streets are in horrible shape, and desperately need to be fixed," he said. "I know there is a sewer grant coming that will cause the streets to be torn up, but they could still fix the potholes that damage vehicles."

He also said he doesn't understand why the city isn't enforcing the drug laws that are on the books.

"Drug use is illegal," he said. "These are Schedule I drugs, and there is nowhere that Schedule I drugs have been legalized. Law enforcement has to enforce those laws. In other communities, these drug users go to jail, and when they get out they don't come back."

He said Rocky Top's location just off Interstate 75 and on U.S. 25W is part of the problem.

"We are gifted with a major thoroughfare here; gifted and cursed," he said. "Back when I was a city fireman and cop, we would haul them out of town, taking them on a half-day trip. And dropping them off. It wasn't a problem back then.

"Now we have drug houses in town, and their next-door neighbors are terrified to go to sleep at night. Knoxville deals with them by seizing the properties; I think we should look into that."

Templin said he blames the current city leadership for the problems.

"I think a lot of it is apathy, pure laziness and a lack of accountability," he said. "I spent 26 years in the military, and I've seen what a good leader can do, and what a bad one can do."

Templin and his wife, Carolyn, now live in the house in Rocky Top that he grew up in. They moved back into town in December 2020 after living for a while in the Medford area, he said.

He is a compliance training officer for the Y-12 plant in Oak Ridge, and for 20 years was a firefighter at Y-12.

The Templins raised three children, and the couple now has six grandchildren.

Sharp is seeking his fourth term as mayor,

Also qualifying to run in the Rocky Top election were five candidates for two city council seats. There are four members on the council, but they serve four-year staggered terms so that only two are elected every two years.

Incumbents Retha D. (Denise) Casteel and Tony Devaney are running against newcomers Mack Bunch, Richard Dawson and Jeff Gilliam.

Templin said that Bunch and Gilliam are running with him as a team.

Casteel is seeking her second term. Devaney is seeking his first full term on the council after being appointed by the council in October 2019 to serve the unexpired term of Brian Brown, who resigned for health reasons.

Not up for re-election this year are Councilmen Zack Green, who won his seat in the November 2020 election as a newcomer, and Juston Job, who won his first full term in November 2020, and also serves as vice mayor. He had already been on the council for three years, having been appointed to fill out the unexpired term of another council member who resigned.

Both Templin and Bunch were present during the August city council meeting.