Shelter cat 'Tippy' needs a 'furever' home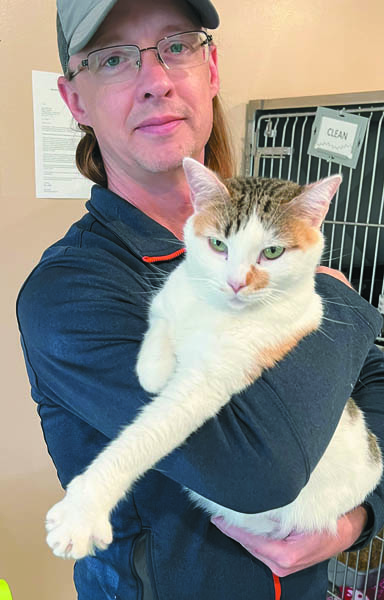 This precious female calico cat, who has apparently never met a stranger, has been the resident feline at the Anderson County Animal Shelter since she arrived as a pregnant stray in 2020.

Since then, Miss Personality has become pretty much the shelter's official four-legged greeter, who loves all the attention from whoever takes the time to give it. And she gives it right back.

She has also played another important role: foster mom to a litter of abandoned kittens, whom she raised as her own after the litter she gave birth to moved on to their new homes.

Now, even though "nobody here wants her to see her go," Tippy has been put up for adoption, said Damon McKenna, who took over last month as the center's new director and Anderson County's animal-control officer.

"It's for her safety and the opportunity for her to be in a real home of her own," McKenna said of the decision to part with Tippy.

"She doesn't have a lot of room here to move around, and after we close, she spends long hours here by herself with nothing to do but look out the window."

He's also concerned that she might catch a disease or be hurt by a dog that is brought into the shelter.

While Tippy "lives" in the shelter's lobby/cat room, dogs do come in at times, and Tippy is not afraid of them, McKenna said.

"Her problem is that she's really not scared of anything, and she doesn't run away from dogs," he said. "And she deserves better than this little lobby here."

She also sometimes runs out the front door when visitors show up, and because the shelter is inside the Blockhouse Valley Road waste convenience center, that can be dangerous for her, McKenna said. Shelter staffers have to go out and bring her right back inside.

True to her friendly nature, Tippy came right up to the visiting Courier News reporter, and demanded some attention – which, of course, she got.

The shelter folks don't want Tippy going to just any home. They want to make sure she finds people who will appreciate her, give her lots of love and attention, and keep her as an inside-only cat.

"In a shelter world where animals come and go, Tippy has been a constant for the shelter team, and even regular visitors to the shelter," Anderson County Mayor Terry Frank said. "She's a rock star, a true people-cat who loves to nap on your lap.

"This is one of those tough shelter decisions where it is so hard to let go — so we're hoping someone special will step forward to adopt her and be willing to keep her shelter connections alive."

That means the shelter would like to have at least some occasional updates from her new family about how Tippy is doing, McKenna said.

McKenna is taking inquiries from people interested in adopting Tippy. Contact him through email at dmckenna@andersoncountytn.gov.

Tippy's adoption fee is $50 (cash or check only). She has been spayed and is up to date on her vaccinations.