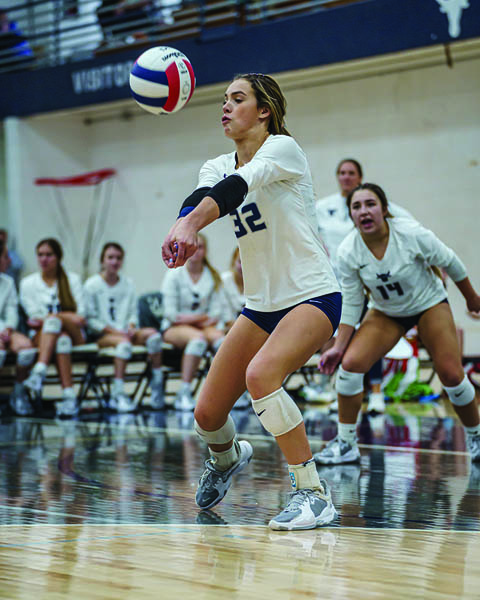 The third time was a charm for the Anderson County High School volleyball team last week.

The Lady Mavericks defeated their nemesis, Gibbs, on Tuesday, Oct. 4, to win the District 3-AA Volleyball Tournament at ACHS.

The Lady Eagles, who had defeated Anderson County (25-17) twice during the 2022 regular season to post a perfect league record and capture the tournament's No. 1 seed, claimed the first set.

The Lady Mavs, however, would storm back to take a 23-25, 25-18, 25-19, 25-21, and win the championship. The win avenged the Lady Eagles' two victories over the Lady Mavericks.

"It felt good to win the district championship," Anderson County coach Jayme Smith said. "It took four sets, so I was a little nervous after they won that first set.

"Winning that district championship was big for us. Beating Gibbs was big for us."

Despite losing two matches to Gibbs, the Lady Mavericks were in a pair of competitive tilts between the two longtime volleyball rivals. Those narrow losses proved to be the spark ACHS needed to have the will to prevail.

"I think the girls always had the confidence that they could beat Gibbs, but they just needed to see themselves do it," Smith said.

Shelby Kelly led the Lady Mavs' hitting attack as she had 17 kills and five blocks.

She also provided a defensive spark as she came up with 11 digs.

It was a true team effort for ACHS as it received key contributions from every player who took the court against the Lady Eagles.

Kyra Damewood added eight kills.

Alyssa Meier came up with six kills and Anna Kay Smith, the team's lone senior, had a solid performance with 15 digs, five kills and two aces.

Junior setter Jailynn Bullock finished the championship match with 34 assists, 12 digs, two kills, two blocks and one ace en route to being named the tournament's Most Valuable Player.

"They came together and played well as a team," Smith said. "Jailynn is just a firecracker. She's doing a good job finding the hot hitter.

"She's pretty quiet except when it's time to cheer."

All-Tournament Team: Bullock was joined on the all-tournament team by Kelly and Meier.

Next up: The Lady Mavericks and Gibbs were set to head to the Region 2-AA Tournament, which opened Tuesday night in Seymour.

Seymour's Lady Eagles defeated Carter to win the District 3-AA Tournament.

ACHS was set to play the Lady Hornets to open the event. Results were not available at press time.