Eli Davis seals ACHS win with a safety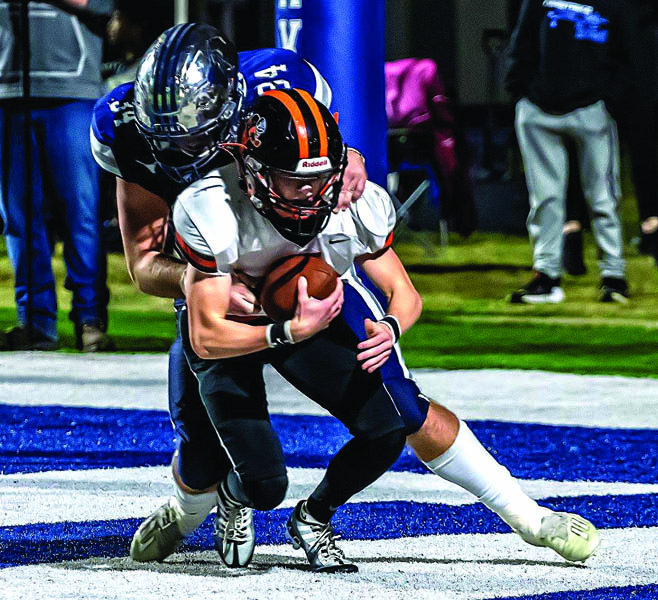 As an offensive player, Anderson County senior Eli Davis is an unsung hero as he blocks for Nick Moog and Gavin Noe.

Moog and Noe followed the senior tight end to victory Friday night.

But Davis, who is also a linebacker, played the role of super star as he made a big defensive play to help the Mavericks seal their 30-24 win over Elizabethton in the second round of the TSSAA Class 4A Playoffs at ACHS.

Davis' heroics came as he sacked Cyclones quarterback Dalton Mitchell in the end zone for a clinching safety. The big play followed a fumble by Noe as he was headed for a touchdown that would've put the game out of reach.

Noe fumbled at the Elizabethton 2-yard line, and gave the Cyclones a chance to win the game.

But the ACHS defense stepped up, and on fourth down, Davis dumped Mitchell in the end zone for two points.

"This is the first time I've ever made a play like that," Davis said.

Anderson County and the Cyclones played a regular-season game in September and the Mavericks claimed a 35-34 overtime win after erasing a 14-point deficit.

Still, ACHS wasn't expected to win according to one local media outlet.

"Five Star Preps said they were going to beat us and we kind of took that personally," said Davis, who finished the night with 14 tackles, including two tackles for loss.

This time, it was the Mavs (12-0) who darted out to a big lead as they were up 20-7 at halftime.

"Other than the fact that its two really good physical competitive teams going at it, this game was completely different," ACHS Coach Davey Gillum said.

Anderson County started fast against the Cyclones (6-5) as they forced Elizabethton to go three-and-out on its first possession. The Mavericks then promptly scored on their first drive when quarterback Walker Martinez found Moog in the back corner of the end zone from six yards out with 5 minutes, 28 seconds remaining in the first quarter. Chris Nelson then added the extra point to make the score 7-0.

Anderson County extended its advantage to 14-0 early in the second frame as Noe scored on a 4-yard touchdown run.

Elizabethton's offense finally started to click midway through the second quarter when Mitchell connected with Cade Russell on a 23-yard scoring strike to make the score 14-7.

ACHS closed out the scoring before halftime when Martinez threw a 17-yard touchdown pass to make it 20-7 with 3:27 left in the first half. The Cyclones, however, blocked the point after.

Gillum knew nothing was going to be easy after halftime.

"I've got nothing but respect for that program and their coaching staff," Gillum said of the Cyclones. "They've won two state championships and been to three (championship games) in the last three years."

"They're fighters, they're warriors. It doesn't matter if it's an up or down year, you're going to have to fight to the last second to beat these guys."

That was certainly the case on this night.

The Cyclones' defense stopped ACHS on its first possession of the second half and pulled to within 20-14 when Mitchell lofted a 57-yard touchdown pass to Russell with 9:57 left in the third stanza.

But the Mavericks would answer when Martinez, who was 15-for-20 for 204 yards and three touchdowns, connected with Tate Russell from 33-yards out. Martinez then completed a pass to Bryson Vowell for a two-point conversion to make 28-14 midway through the frame.

The Mavericks never trailed in the contest, but the Cyclones scored the next 10 points as Mitchell connected with Cade Russell, and Caleb Campbell kicked a 34-yard field goal to make it 28-24 with 8:09 left in the game.

After the safety, Elizabethton attempted an onside kick on the ensuing free kick, but the Mavericks recovered and ran out the clock.