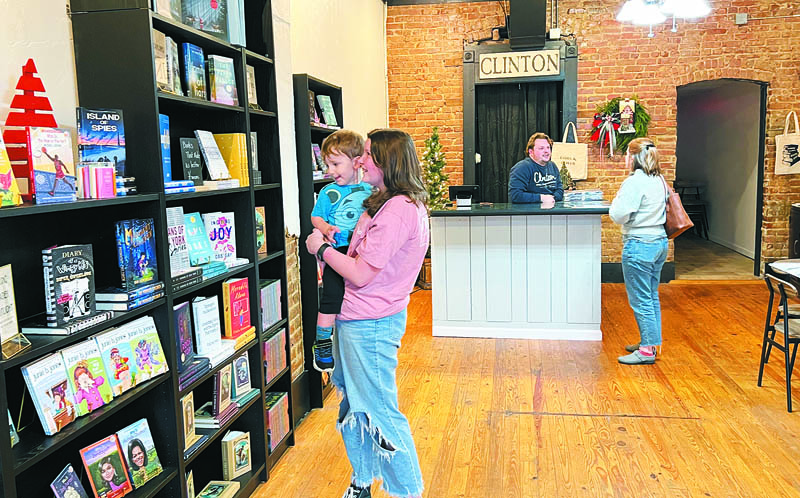 Clinton has a new bookstore on Market Street, which early next year will also become a beer and wine bar/cafe, as well.

Cork & Cover, featuring a selection of "carefully curated" books – including several by local authors – opened its doors on Dec. 2 as a bookstore only.

It and will soon add the beverage and food side of the business once some internal construction is completed, said its owner, Taylor Martin.

It's in the space at 365 Market St. formerly occupied by a clock shop, which has moved next door.

Martin, a local photographer and entrepreneur, previously operated The Garden, a temporary, seasonal "pop-up" bar open limited hours on weekends, inside The Spindle Tree photo studio and event space at 303 Market St. That is the former site of a short-lived Cajun restaurant that went out of business about five years ago.

Cork & Cover is his newest enterprise, a permanent business that he described as "a nostalgic hideaway where people can sit back and relax with a good book, sip on a cold beverage (alcoholic or non-alcoholic), and enjoy a bite to eat."

"Guests will have the opportunity to make book purchases through online as well. Additionally, the space will even be available for private events and gatherings."

For now, the bookstore is open Tuesday through Friday from 4:30 to 7:30 p.m., and Saturday from 10 a.m. to 5 p.m. until Dec. 19, Martin said. After that, it will operate on a full schedule, Martin said, but will still be closed Sundays and Mondays.

"We can't open the bar until we build the kitchen area and an additional restroom," he said. "Construction starts in January. Ideally, I would love to have [the cafe] launched by late February."

Martin said the space will also be available for private events.

"This is not like a typical bookstore," he said. "It features carefully curated books we have selected, including some by local and regional authors.

"They are organized by theme, and will be changed out seasonally. For instance, we have a Storybook Christmas shelf now," he said.

"We have the local authors' shelf, featuring East Tennessee authors," Martin said. "We have a really good kids' section, with books for ages from young adult to smaller children.

On hand at the bookstore last Friday evening was Knoxville author Emily B. Riddle, who was there checking the "Local Authors" section, where her new novel, "First Comes Love," is on display.

"I'm excited to see this store open, and that they are focusing on East Tennessee authors," she said. She plans to return to the store to do a book-signing event during Cork & Cover's grand opening, whose time and date have not been announced yet. That won't come until after the "Cork" side of the business is up and running, Martin said.

"When the bar opens, it will be beer, wine, teas, coffee — not fancy coffee, just classic drip coffee," he said. "To start, the menu will be mostly small plate items, panini sandwiches, charcuterie boards. It's a family friendly bookstore."

Cork & Cover also will hold special events, such as last Saturday's "Storyteller Day" for kids, which for $35 included writing letters to Santa, Christmas cookies and hot cocoa, and a live interactive reading of "Dasher" by Matt Tavares, and a copy of the book for each participant.