Norris 'branding' idea proposed; could bring new signs at city limits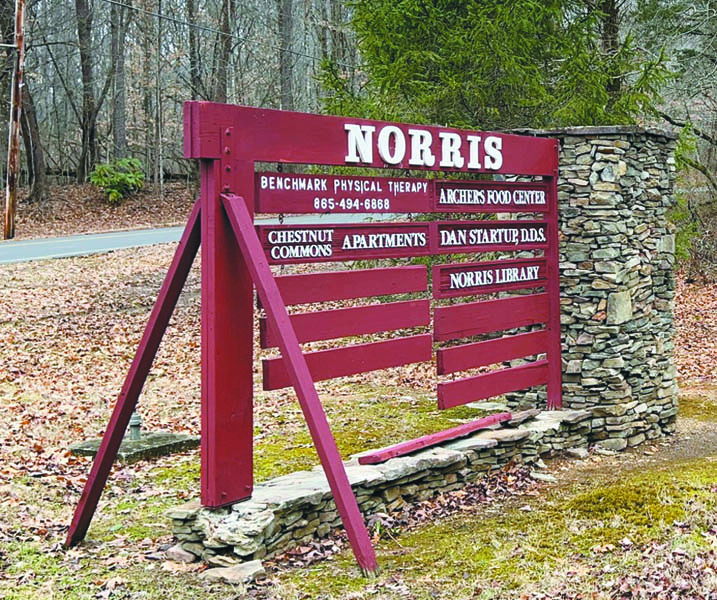 Those wooden signs greeting visitors to Norris are few and far between, and are showing signs of deterioration.

They also are limited to the two traditional entrances to Norris – at Norris Freeway and West Norris Road, and Andersonville Highway and East Norris Road – and do not encompass the expanded Norris boundaries that resulted from annexations over the past two decades.

Now, the city's Community Development Board proposes to come up with new signs to welcome people to the city, incorporating a "branding" theme for Norris that helps to tell people what the historic city is all about.

Councilman Will Grinder, who is chairman of the development board, brought up the branding idea during last week's monthly City Council meeting, informing council members and the audience about the initiative.

Grinder said it could help identify and promote the city's mission and image to outsiders.

"We're calling it the Norris Image Identity Project, also known as a branding effort," Grinder told The Courier News.

"We hope it would turn out to be something that helps express what Norris is all about, and result in some nice new signs that reflect all the years the city has been here."

Grinder said some of the ideas about replacing the signs came from board member Lisa Barger. She is also a member of the Norris Lions Club, which as part of its service work in the community helps to keep the current signs maintained.

"It would be nice to upgrade the signs with something that's really nice, and incorporates a logo or look for Norris," Grinder said. "That's my vision. We have logos on our [city] letterhead, but I know we don't have an official logo.

"We're going to get some information from a branding company, get some help with the process. It would be nice to have it done professionally."

The branding effort would involve creating a marketing image for the city, but would not go beyond that to set any kind of requirements on land use, Grinder said.

"We would hope to have some community involvement in developing a logo and a mission statement for Norris," he said.

As for the new signs, Grinder would like to see more of them, and to have them put at the newer entrances to the city.

"Coming from Clinton, the actual city itself starts at Meadow View [Senior Living]" on Andersonville Highway," Grinder said.

But even though that area was annexed by Norris more than 10 years ago, there isn't a "Norris City Limits" sign there to indicate to motorists that they are even entering the city, Grinder noted.

"The most important part is what you're going to put on the signs, and there must be community involvement," Grinder said. "And they need to look like they've always been there."

Other members of the Community Development Board are George Miceli, Laurie Templin and Blake Knight.

The board plans to work on the branding plan, and report back to the City Council.