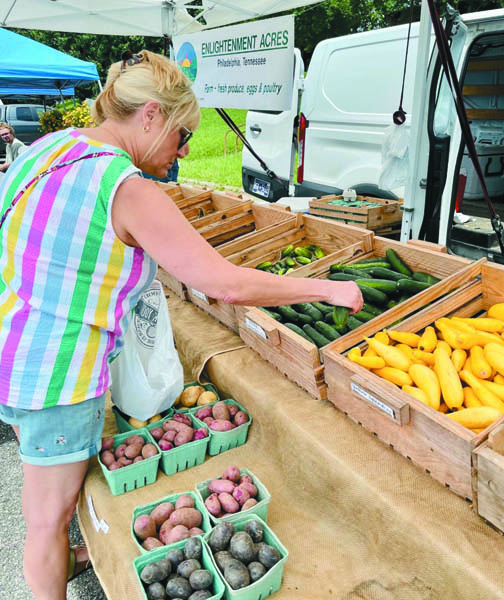 The long-running, popular Oak Ridge Farmers Market has already opened for the new year, three months early.

Beginning its 47th year in 2023, the Saturday morning market, at Jackson Square, will now be open year-round, having added January, February and March to its schedule this year, said Kathy Mihalczo, president of the East Tennessee Farm Association for Retail Marketing, also known as FARM, which sponsors the Oak Ridge market, among others.

"This is the first year we will be operating our farmers market in Oak Ridge year-round," she said. "In the past, it always has operated April through December."

"Year-round outdoor markets are becoming a thing," Mihalczo said. "Knoxville's is year-round on Market Square."

For Oak Ridge's market,hours now through March are 9 a.m. to 1 p.m. each Saturday, said Mihalczo, who owns and operates the Erin's Meadow Herb Farm in the Marlow community. She has been associated with the FARM group for more than 30 years.

"In April, we will go back to the summer and fall hours, 8 a.m. until noon on Saturdays," she said.

Oak Ridge, like other East Tennessee FARM markets, offer fresh, local products "sold by the person who raised it, grew it, made it or baked it," Mihalczo said.

"Our mission is to support local agriculture," she said. "FARM is dedicated to helping local farmers and producers to direct-market their products to the public."

The Oak Ridge market for now will be featuring winter produce, gourmet foods, fresh meats, baked goods, and artisan wares.

She said the East Tennessee FARM group is one of the "oldest agriculture marketing co-ops in the state of Tennessee," having been around more than 42 years in Knox and Anderson counties.

It has operated a farmers market in the city parking lot on Commerce Street in downtown Clinton for the past two years. The group has not yet announced plans for the Clinton market for 2023. Part of the city parking lot is being turned into a small park and performance area by the city and the Historic Downtown Clinton group, so what location might be available for a Clinton farmers market this year has not yet been determined.

The Oak Ridge Farmers Market kicked off its new season last weekend. For more information, check out the market's Facebook page at facebook.com/OakRidgeFARMMarket.