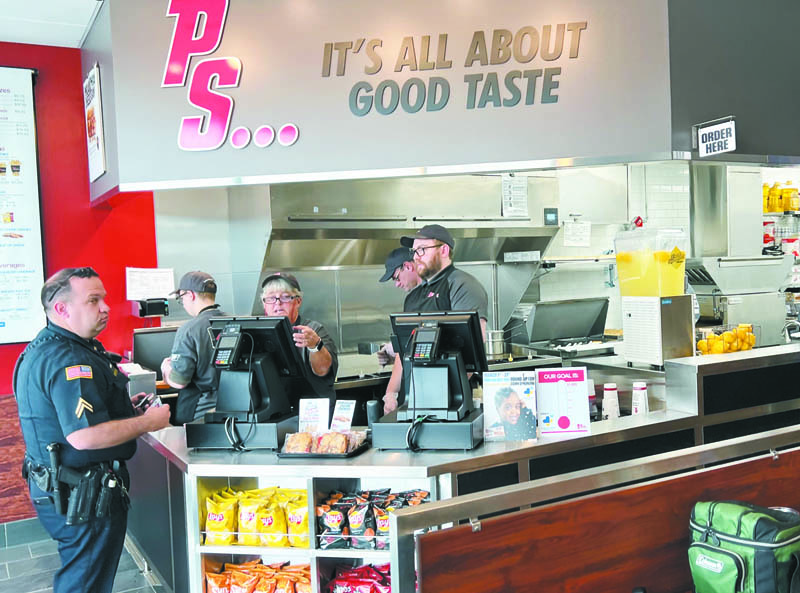 Penn Station East Coast Subs opened its first Anderson County location on Monday (March 6), in the new Clinton Shopping Center on North Charles G. Seivers Boulevard between Sonic and Wendy's.

Owner Melissa Greene of Louisville, who was on hand for the opening, said this is the fourth Penn Station sandwich shop in the Greater Knoxville area. The others are in Sevierville, Fountain City and North Peters Road in Knoxville, she said.

Greene said the staff of "20-plus" had been in training for the past six weeks at the Fountain City location, so were ready to go when the doors of the Clinton store opened at 10 a.m. Monday.

She said Penn Station's most-popular sub is the Philly Cheesesteak, but that customers also like the fresh made-to-order French fries and the hand-squeezed lemonade.

There is a large variety of menu items, including cold and grilled subs, sandwich wraps and salads.

Hours of operation are 10 a.m. to 11 p.m. Monday through Saturday, and 11 a.m. to 8 p.m. Sunday.

Mikayla Albaugh is the general manager of the Clinton store.

The sub sandwich shop began advertising for staff in November.

It's the first business to open in the new four-unit building called the Clinton Shopping Center, which also will soon house US Cellular, The Noire Nail Bar, and a high-end pizza restaurant, according to the leasing agent, Peter Medlyn of Oliver Smith Realty in Knoxville.

Penn Station posted on Facebook in November that "We're coming to Clinton," and asked for people to apply to work for the new location.

Its website (penn-station.com) says the chain has 317 locations in 15 states, and began in Cincinnati, Ohio, in 1985. All but one of its stores are franchises.

"Our menu features an array of mouth-watering grilled submarine sandwiches, fresh-cut fries and hand-squeezed lemonade," the website says. "All sandwiches are prepared fresh in full view of the customer using delicious hearth-baked bread, USDA steak and the finest meats, cheeses and vegetables.

"The potatoes are hand-selected, fresh-cut and flash-fried in cholesterol-free peanut oil. The lemonade is made from scratch every day using hand-squeezed lemons."

The city of Clinton in May 2022 issued a building permit for the nearly $1 million, 7,000-square-foot shell building at the site. Contractor was listed as Creative Structures, Inc.

The developer for the project is John Davenport and Davenport Construction Co. in Jellico, Medlyn said.

The site is less than a mile from Interstate 75, Exit 122. It will have 75 parking spaces, according to documents on the Oliver Smith Realty website.