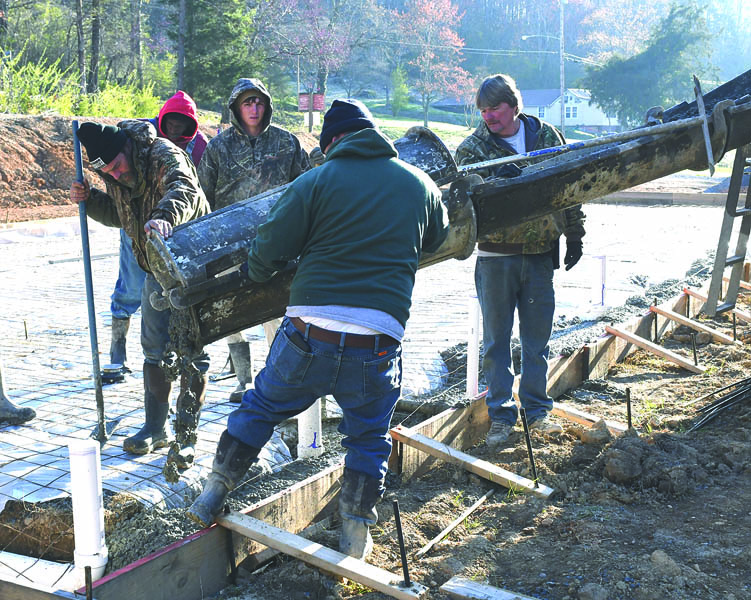 A new home for Anderson County American Legion Post 172 is a step closer.

The concrete is down and the next step, the building, will be in place in about a month.

Ground was broken for the post's new building in December 2021, and while a lot has been accomplished there is still a long way to go. There are still fundraising efforts underway.

"We have to finish the inside of the building and we'll need to finish the parking lot," Anderson County Veterans Service Director and Post 172 officer Leon Jaquet said.

Tuesday morning, CCT Inc., Raccoon Valley Road, put down 70-plus yards of concrete for the new facility.

The new Post 172 home will be some 2,400 square feet.

While this work is being done, the post is still meeting at Clinton Community Center until the new home is completed, and is still serving the community.

Donations are always welcome — for the new facility or for any of the numerous services Post 172 provides.

The post programs for veteran, youth, and community outreach include: Boys State, oratorical contests, youth programs, scholarships, JROTC individual awards and recognition for accomplishments, Operation Comfort Warriors, troop and family support, women veterans, veterans' family emergency funds, and "Buddy Check." The Legion Riders Chapter 172 also provides communities service as funeral and burial escort, and family assistance.

All of these programs have continued, and will continue, during the building phase.

Post #172 has been a community staple located on Spring Street since 1937, when the H. C. Slover family donated the property to the post.

The post was chartered in 1920 and in 2020 the (then) Clinton Post became the sole post for the entirety of Anderson County with the merger of the Oak Ridge and Lake City Posts; and in 2021 the post name was changed from the Clinton American Legion Post #172 to the Anderson County American Legion Post #172.

To make a donation for the building fund, or any of the programs and services offered by Anderson County American Legion Post #172, contact Leon Jaquet at the Anderson County Veterans Service Office in the courthouse, Main Street, Clinton.