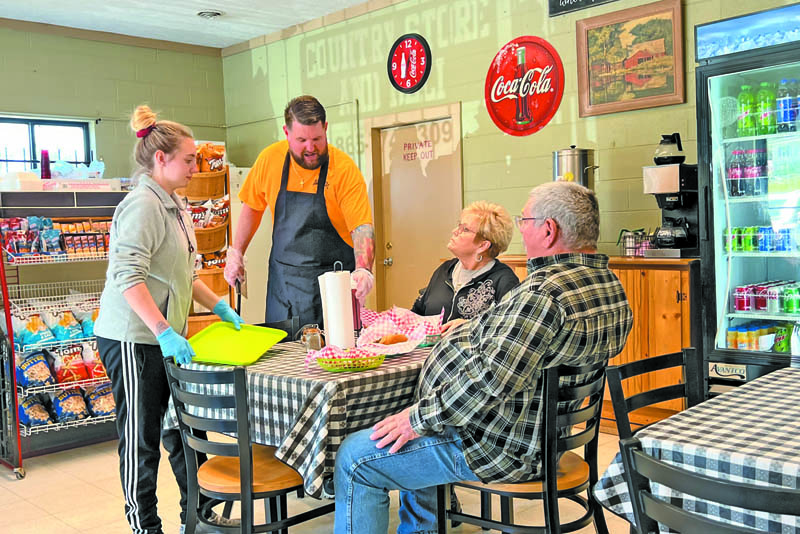 T.J. and Charity Strong have opened a new restaurant called Lolli & Pops in the former location of Gip's Mill Country Store and Deli near Big Ridge State Park.

The Strongs, who live in Powell, say this is their first attempt at running a restaurant, something that has been their dream for several years.

Helping them in the business are their three daughters, Kayla Strong, 16; Nevaeh Hayes, 16; and Kandy Strong, 21; along with Charity Strong's mother, Marie Miller.

Lolli & Pops Country Store and Deli will be open, at least for now, Monday-Thursday from 10 a.m. to 8 p.m., and Friday-Sunday from 6 a.m. to 8 p.m., said T.J. Strong.

"We may tweak the hours some as we go," T.J. Strong said on Sunday morning. He said he's also hoping to get the word out that the restaurant has reopened.

"We opened at 6 a.m. Sunday, but didn't get our first customer until 10," he said.

The restaurant, at 2402 Highway 61 West, Andersonville, is about two miles west of the entrance to Big Ridge State Park.

T.J. Strong said he and his wife signed a lease on the building on Feb. 27, and had been working to get ready to open for more than a month. They officially opened on Saturday, April 1.

The restaurant's menu is similar to that of the most-recent incarnation of Gip's Mill, which closed last September with no notice after being open less than two years.

Sandwiches and burgers, along with salads, pizza, and breakfast items, dominate the menu. During the week there will be daily lunch and dinner plates, including entrees such as meatloaf, spaghetti, and chicken and dumplings, Strong said.

He said he will leave the operation of the diner to his family during the week as he runs his separate construction company out of Powell.

The Strongs also plan to offer some grocery and convenience items in the store, aimed at campers and boaters headed to Big Ridge and Norris Lake.

Lolli & Pops already has a Facebook page, and will be posting daily menu updates there. Unlike its predecessor, Lolli & Pops has table service, as well as takeout.

Gip's Mill Country Store & Deli most recently opened in 2020, and featured fresh meals prepared by Gary Thornton, former operator of Big G's Diner in South Clinton, who was helped by wife, Brenda.

That business was owned by the couple's son-in-law and daughter, Jerry and Sonya Keith. But it was the Thorntons who spent their days whipping up burgers, sandwiches, lunch and dinner entrees, side dishes and desserts for customers at the store.

Thornton said in early 2021 that the Keiths had leased the building from the owner and opened the restaurant.

The building housing the store was built in the mid-1990s and was originally opened as a deli by Steve Foster on the family farm where he still lives along with his wife and mother. They ran the deli from 1997 to 2000, then reopened it briefly in summer 2019 before closing.