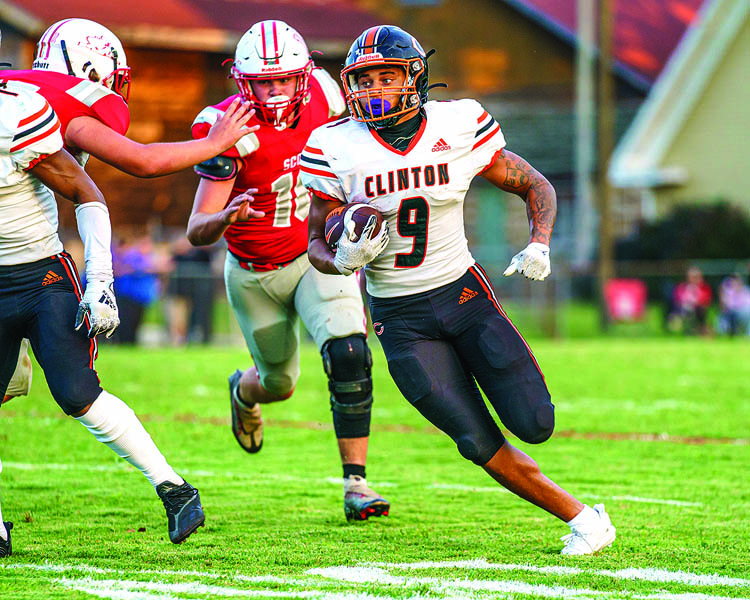 The Clinton Dragons put the pedal to the metal right from the start Friday as they opened up a six-touchdown halftime lead en route to a 45-0 win over the Scott Highlanders in Huntsville.

Playing at "The Farm," also known as Highlander Stadium, the Dragons plowed through the opposition, rolling up 398 yards of total offense while holding Scott to minus-9 total yards and only one first down.

Dragon running back Jawan Goins led the ground game with nine rushes for 92 yards and a touchdown. Chauncey Felts added 63 yards on three carries, including a game-best 41-yard tote. Jerius Hundley also tallied with a rush for Clinton.

Quarterback Josh Keith went 10-for-13 through the air for 157 yards and three touchdowns for the Dragons. Deameion Leavell and backup quarterback Camden Nelson each were 2-for-2 passing for Clinton.

Bryson Maddox caught two of the TD passes for Clinton while Leavell hauled in another. Maddox led Dragon receivers with three catches for 92 yards. Eight Clinton players caught at least one pass. Jeremiah Lee returned a punt for a Clinton TD.

Gage Wergin and D'Mon Marable paced Dragon defenders with six tackles each. Wergin made one sack for a 7-yard loss. Jaxon Herrell added five tackles with two tackles for loss for 11 yards.

Rhett Seivers made four tackles with two TFLs for 10 yards. Noah Witt recorded a sack for 6 yards, David Ortiz one TFL for 2 yards, and Felts one sack for 8 yards.

Parker Searle gave Clinton four sacks on the day, tackling the quarterback for an 8-yard loss. Derek Bean intercepted a pass for the Dragons, and LaVelle Pendergrass blocked a punt for a safety.

The non-region game left both teams with 1-2 overall records. Clinton is now 3-0 all-time against Scott, sweeping a home-and-home series with the Highlanders in 2017-18. The shutout was the Dragons' first since last season's opener, a 48-0 home win over William Blount.

Clinton head Coach Darell Keith said his team "focused up" after an 0-2 start to the season.

"Early on in the year, I did some things I probably shouldn't have done," he said. "We had only really two solid scrimmages.

"We did a lot of experimentation with the offensive line. We rotated backs. We really could never get in sync for the first two games, so this week we put the same guys on the offensive line, put the same running backs and same receivers in.

"Then we got a rhythm on defense, we did the same thing," Keith said. "It was a much-improved Scott High School football team, but tonight we didn't want to come out here and try to out-athlete them. We wanted to use fundamentals. We were more disciplined tonight. We did some good things tonight."

The Dragons didn't allow a first down until early in the fourth quarter, when Scott was awarded one via a penalty against Clinton substitutes.

"That was our JV guys," Keith said.

Goins posted runs of 26 and 20 yards, but may have had the highlight of the night with a 12-yard first-half carry in which he was trapped deep in the backfield by several Scott defenders but turned it into a gain.

"I was impressed with Jawan Goins," Keith said. "I don't think I've ever seen a high school run like that before. It was like watching a human joystick. It was entertaining."

Keith was also pleased with his offense's numbers in a game in which he was able to rest the starters as mercy-rule timing made for a quick second half.

"For a quarter and a half of football, it's pretty good stats," he said. "I wasn't going to take any chance of them getting hurt."

Clinton opened the game with a 20-yard Goins run and an 11-yard rush by Felts. A personal foul on Scott moved the Dragons to the Highlander 23-yard line, and three plays later quarterback Keith connected with Leavell on an 18-yard touchdown pass. Emanuel Ortiz kicked the first of his five extra points for a 7-0 Dragon lead with only 2:12 off the first-quarter clock.

A three-and-out by Scott led to a punt by Hugo Henry, who was a busy player for the Highlanders.

The Dragons then moved 55 yards in six plays for another score. Goins ran for 4 yards on third-and-two and 11 yards to move the sticks, and Keith hit a wide-open Maddox in the front-right corner of the end zone for a 37-yard TD pass. The kick made it 14-0 Dragons with 5:45 left in the opening period.

On Scott's next play, Dragon defensive back Bean outjumped his man and made an interception at the Dragon 49-yard line.

Goins followed with a 12-yard run and a 39-yard carry for a TD that was wiped off because of two penalties on the Dragons. Clinton would still score three plays later as Keith found Maddox open at the 5, and the Dragon receiver scored to complete a 46-yard play. Clinton led 21-0 with 3:17 to go in the first quarter.

David Ortiz's 2-yard TFL helped force another Scott punt, and the Dragons tacked on a fourth TD in the opening 12 minutes. Clinton went 44 yards in three plays, all Goins runs, as the Dragon back scampered for 26 and 17 yards. Keith handed off to Goins, who went in untouched, for a 1-yard TD.

Felts made a sack on the next Highlander series, and a high snap from center led to a second big loss. Punt returner Lee scooped up Henry's next kick off a bounce and scored on a 37-yard return. Leavell ran in a two-point conversion for a 36-0 Dragon lead with 10:18 left in the first half.

Tackles by Wergin and Felts preceded another Scott punt, and the Dragons scored their final TD of the night after a five-play, 46-yard drive. Leavell completed two passes, including one of 31 yards to Braylen Hayden. Hundley scored the TD on a 2-yard run. Clinton had a 43-0 lead with 4:44 to go in the half.

Scott's Israel Turner returned the kickoff 26 yards for the biggest Highlander play of the night. A new quarterback did not change Scott's fortunes on offense, however, as Marable blasted a Highlander receiver for a short gain on third-and-11 to bring on another punt.

Clinton fumbled the punt return, and Scott's Micah Boles recovered at the Dragon 23. A sack by Wergin led to a field-goal attempt, but Scott's Henry missed wide right from 47 yards.

Keith completed passes of 7 yards to Donnavin Pencek and 16 yards to La'Dailyon Anderson, while Felts reeled off his 41-yard run as the half ended.

Clinton amassed 379 yards of offense in the opening two quarters.

With the mercy-rule running clock in the second half, the game moved along fast. On the opening possession of the third quarter, Scott punted from its own 20-yard line, but the kick lined off of Pendergrass out of the end zone for a safety and a 45-0 lead with only 3 minutes off the clock.

The Dragons fumbled the ensuing free kick, and Bo Laxton recovered for Scott. The teams would exchange punts before the Highlanders finally recorded a first down via a Dragon holding penalty on defense.

But the Scott drive was hampered by two sacks as Searle and Witt got to quarterback Boles in the backfield. The Witt sack was on fourth down and turned the ball over to Clinton.

Nelson completed passes of 15 yards to Pencek and 6 yards to Landan Westmoreland, with Nelson taking a knee on the final play as the Dragons ran out the clock on a big win.

Clinton heads back up Interstate 75 again this Friday as the Dragons open their Region 3-5A slate at Campbell County.

"I'm definitely looking forward to it," Coach Keith said.