WYSH airing new sports talk show on Monday nights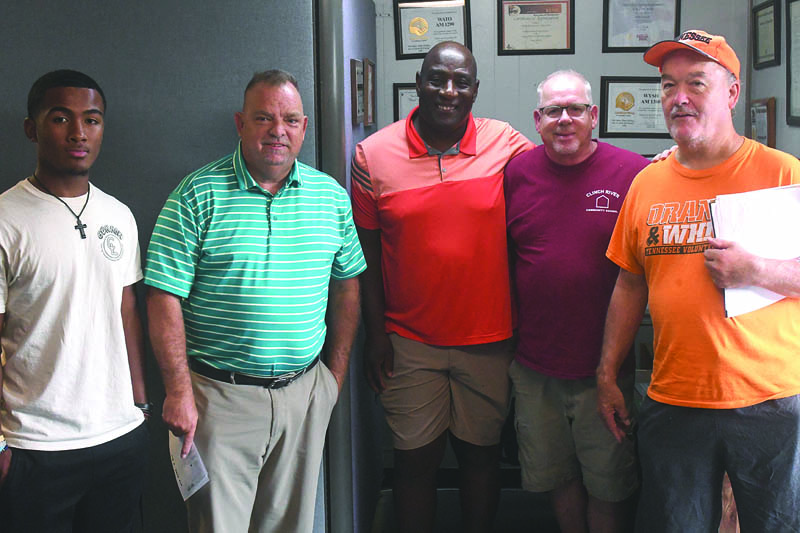 There's a new sports talk show on the air in Clinton (and world-wide).

From 7-8 p.m. Mondays, WYSH-AM is now hosting a sports radio talk show with guests that feature former University of Tennessee Volunteers and former and current Clinton High School Dragons.

Hosted by Walt Stair, the show offers something a little extra.

There is also a recap of Clinton's football game from the previous Friday from Stair; a look at the next game, with an interview with Clinton High School Head Football Coach Darell Keith; the Pizza Express Trivia Question; and a "history" segment from John "Sleepy" Williams.

And of course, the guest of the evening.

"We wanted to start up the sports talk program after Jim Harris left," co-host Jasper Young said. "Jim (Harris) had the 'Dragon Wagon,' and when he left so did that."

Young said he wanted to give something to the community: insight and stories that go beyond what happens on the field. "An inside perspective," Young said.

For instance, when former Volunteer Chris Wampler was on the show, he told the story about a phone call he received from the University of Alabama.

"Chris is all, 'Yes sir,' and 'No sir,' because that's how he was brought up and that's the kind of man he is," Young said.

But when legendary Alabama Coach Paul "Bear" Bryant told Wampler he wanted to give him a free scholarship if he would go play for the Crimson Tide, Wampler told Bryant: "No sir, I want to play for the University of Tennessee."

"His father wasn't too happy about that," Young said. "I mean, he was giving up a 'free' scholarship to play for Bear Bryant."

A few years later, Chris Wampler was a member of the 1982 Volunteer team that beat Bear Bryant.

"Chris said Coach Bryant found him after the game and told him, 'You made a good decision, son,'" Young said.

Young said when another Vol For Life, Sterling Henton, was on the show, he revealed how chance and nice weather landed the star quarterback.

"He was supposed to visit three other colleges one weekend, but they were all snowed under," Young said. "But is was sunny and 75 degrees in Knoxville, so he visited UT instead."

Four bowl game wins later …

"We also found out about Henton's first DJ job," Young said. "He was 8 years old and it was for his elementary school."

Oh, yeah, the show offers a little more than what a player did on the field.

The program is still reaching out to other VFLs and is taking input from the community on who they should bring onto the show.

"I tell everyone, 'I'm all ears,'" Young said.

The program's main sponsor is another community icon, Powell Brothers Mechanical Contractors.

"Kenny (Powell) is ready to help out in bringing good things to the community," Young said.

"Sponsors make it possible."

Young said the show will run through the end of the football season.

At that time, it will be evaluated to see if it will continue through basketball season or further.