'It's Perfectly Normal' will be retained in young adult section, by 2-1 vote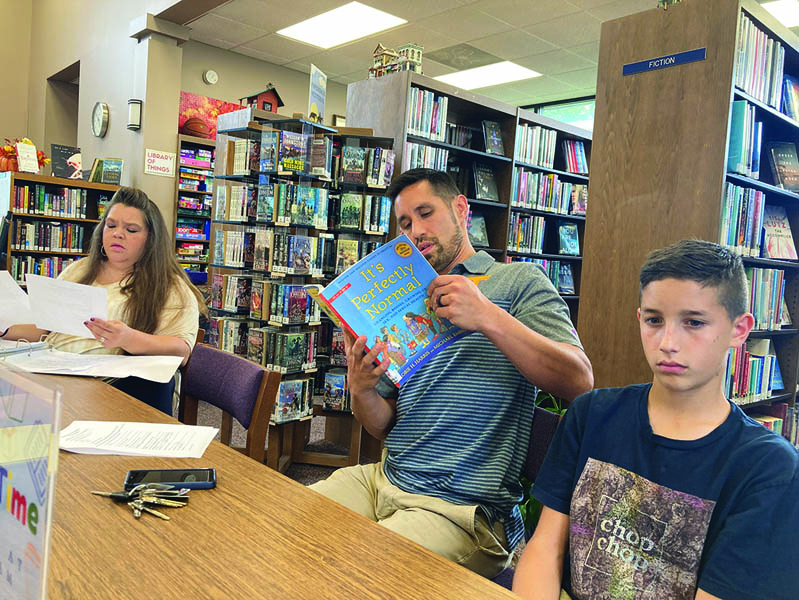 Unlike many recent public meetings concerning "controversial" books housed in Anderson County's libraries, the library board subcommittee meeting Tuesday, Sept. 12, was very civil with all participants respectfully listening to opposing views.

The purpose of the meeting, held at Rocky Top Library, was to consider challenges to the book "It's Perfectly Normal."

Tuesday's subcommittee meeting resulted in "good points" of the book outweighing the bad points.

The committee voted 2-1 to retain the book in the young adult section of the Clinton Library.

Christy Hibbler cast the lone dissenting vote. "To me there is nothing perfectly normal about this book," she said.

The book had been challenged in February. At that time, the book, which is found at the Clinton Library, was moved from the juvenile to young adult section.

The juvenile section is for readers from 10-12 years of age. The young adult section is for those 13-17.

The book was challenged at the subcommittee meeting under the new rules recently adopted by the library board.

The new rules state that any challenges will be considered by a three-person subcommittee.

That subcommittee is made up of one librarian, who must be from a library that does not have the challenged book, and two library board members.

This subcommittee consisted of Norma Day, librarian at Rocky Top, and two board members, Janine Brewer and Hibbler.

John Tue, one of three challengers of the book, was also present.

In contrast to many recent library board meetings, some subcommittee members and Tue agreed on several positive points of the book, such as its value as a sex-education tool for parents.

They also mentioned the frequently cited statement in the book that readers with questions should talk to a trusted adult such as a parent, minister or counselor.

However, they also agreed that there were parts of the book that made them uncomfortable.

Tue said the book was 80 percent good and 20 percent bad.

"We're coming from a Biblical world view," Tue said.

"God decides right and wrong. We trust Scriptures. I think gender confusion is dangerous to our community. It is promoting confusion of what God made."

"Some people don't share your belief system," Day replied. "I have to respect their beliefs."

However, both Day and Hibbler said they would not let their young children read the book. Day said she would not want to read the book, but would not make that determination for others. She said some of the topics can be uncomfortable.

"Some parents are not parenting very well," Brewer said. "I would not want to keep this information from some children who need

it."

Hibbler said, "To me, there is nothing perfectly normal about this book."

Tue, who wanted the book removed from the library, has the right to appeal the subcommittee's decision to the full library board.

However, he did not indicate at the meeting whether he wanted to do so or not.