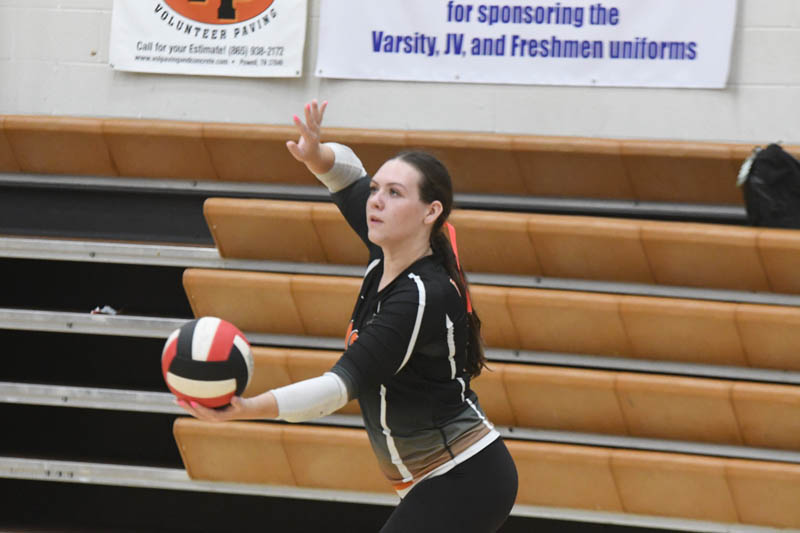 The battle for the District 3-AAA volleyball championship will take center stage Thursday night as Oak Ridge pays its annual regular-season visit to the Don W. Lockard Gymnasium to take on Clinton.

First serve is slated for 6 p.m.

The Lady Dragons (20-8 overall, 10-0 in district play) have yet to drop a set in a league match. They swept the Lady Wildcats at Wildcat Arena in Oak Ridge earlier this season.

The Lady Wildcats (8-11, 7-1) have struggled outside the league this year, but entered the 2023 season as the defending district tournament champion.

Last time out, Oak Ridge was swept 25-15, 25-17, 25-14 on Wednesday, Sept. 13, by Bearden in West Knoxville.

ORHS got 10 kills from Maggie Williams and 15 digs from Marissa Kenworthy against the Lady Bulldogs.

In that match, the Lady Wildcats enjoyed sporadic pockets of success, giving third-year Coach Audrey Sherles reason for optimism.

"We're getting better and we're working on playing a higher IQ game and not just an athletic game," Sherles said.

"But we don't protect the ball very well and we don't earn enough side-outs; and we do earn side-outs, we don't sustain our serves."

Meanwhile, the Lady Dragons are enjoying

a breakout campaign in 2023, and Coach

Lorri Johnson is hoping to see a big crowd for Thursday night.

"This will be a big game for us, and we're making this kind of a reunion," Johnson said. "We want to invite all the former players out for the game."

Clinton notched an easy two-set victory over Carter at home Monday night, prevailing, 25-11, 25-15 over the Lady Hornets.

Riley Owens had seven kills, three aces and one block against Carter.

Darbi Brummett added five kills. McKenzie Crisp finished with nine digs and Josie Moody dished out 12 assists.

Since arriving at Clinton, Johnson has strengthened the schedule for the Lady Dragons, who played at the elite Baylor Tournament in Chattanooga.

Clinton went 1-3 with losses to the host Lady Raiders and a pair of three-set losses to Walker Valley and Chattanooga Girls Preparatory School. The Lady Dragons did notch a two-set victory over Mt. Bethel Christian Academy (Marietta, Georgia).

Clinton also won district matches over Karns and Knoxville Central in Knoxville last week.