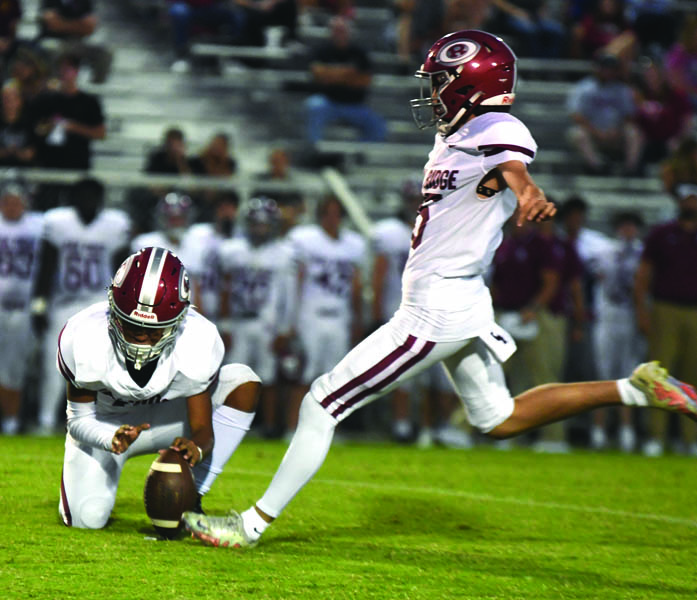 Oak Ridge had an eventful but rough night at McMinn County. The Wildcats could never get their offense in gear.

And worse, Coach Derek Rang was ejected midway through the third quarter after the Wildcats picked up three sideline warning penalties in their 14-3 loss to McMinn County Friday night in Athens

It was Oak Ridge's first loss of the 2023 season, while the Cherokees won their third-consecutive game after opening the campaign with back-to-back losses against Cleveland and Bradley Central.

The Cherokees (3-2), who run a Wing-T offense, threw just two passes all night as quarterback Brady Mullins was 1-for-2 for five yards. McMinn County, however, set the tone early as it took the opening kickoff and marched 76 yards on 16 plays, capping the drive with a 2-yard touchdown dash by Mullins with 2 minutes, 41 seconds remaining in the first quarter. Spencer Sullins added the extra point to make it 7-0.

Mullins' touchdown culminated a drive that consumed more than nine minutes, with the Cherokees doing much of their damage on the ground. The quarterback's lone completion was a 5-yard pass to Jacob Sharp.

The Wildcats (3-1) scored on their first drive when Eli Pearson kicked a 28-yard field goal with 8:41 left in the second quarter.

While McMinn County's conservative ground attack kept the ball out of the Wildcats' hands, the Cherokees' defense stifled Oak Ridge's offense.

Oak Ridge managed just 208 total yards and gained only 99 net yards on the ground. De'Jauvis Dozier led the Wildcats' rushing attack with 105 yards on 20 carries.

Through the air, Oak Ridge sophomore quarterback Blaine Stansberry was 15-of-28 for 109 yards and an interception.

The score remained 7-3 until Sharp's touchdown run early in the fourth quarter closed the scoring.

Oak Ridge Acting Head Coach Rusty Partin couldn't fault the Wildcats' effort, but said that Oak Ridge's execution on offense left a lot to be desired.

"The kids played hard," Partin said. "Offensively, we're not executing.

"We're not blocking, we're not running the ball well and we're not executing in the passing game. We've got a good group of kids and we're too talented not to be doing that. Our kids fought hard; we've just got to get better as coaches."

Next up for the Wildcats: Oak Ridge travels to Clinton for a Region 3-5A tilt with the Dragons. Clinton (2-3) is coming off a 45-28 loss at Powell Thursday night.