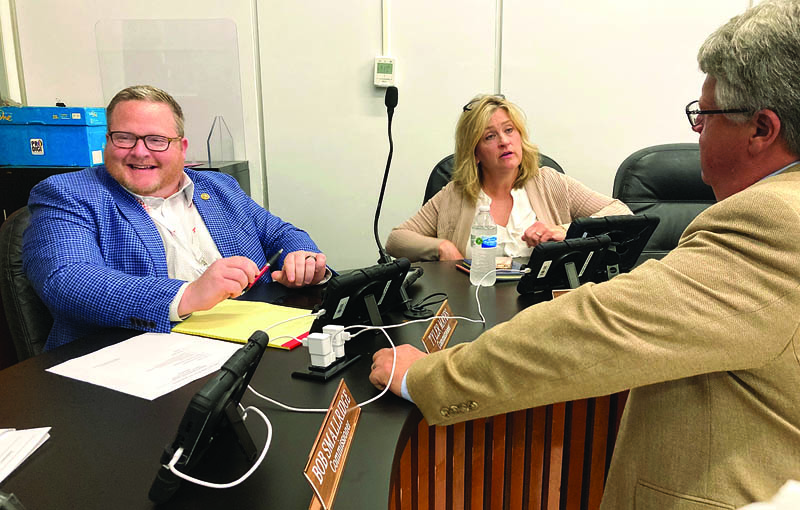 Commissioner Tyler Mayes is now chairman of the Anderson County Commission.

The commission voted to appoint him to the post during its Monday, Sept. 18, meeting.

Mayes represents the Claxton and Bull Run areas. The chairman's job is to preside over County Commission meetings and keep procedural rules.

Mayes gave thoughts on the position in comments before the vote.

He said meetings need to be "proper and professional" and to keep "decorum," strictly following the rules.

"There's 16 of us up here with 16 different opinions, and this individual needs to express all 16," he said. "We may vote a certain way, but we don't project picking sides."

Mayes said the chairperson needs to let citizens express "what's on their mind, what's on their heart."

"But also I see the chairman as being able to protect the 16 of us from direct or any kind of inflammatory comments," he said.

He also said the chairman should represent the full commission "with dignity and with class" at events.

Outgoing Chairman Joshua Anderson gave his thoughts at the same meeting.

"It seems like sometimes when something gets contentious, we weaponize some of our parliamentary procedures," he said.

"It's OK to vote 'no' if you don't like the motion, and just move on. We don't have to necessarily drag it out."

He also warned of the national political climate, with elections and trials that could disrupt the County Commission's ability to run smoothly.

"There's going to be a lot of noise, but I think we can either choose to let that in here at the local level and kind of get distracted, or we can kind of just let that happen and focus on what we were elected to do here locally and keep the government moving like we did during the pandemic," he said.

Mayes beat two other nominees, Commissioners Robert McKamey and Shain Vowell, although it went to two votes, because Mayes failed to get the necessary nine the first time.

In the first vote, he received eight votes, Vowell three and McKamey four. In the final vote, he got 10 votes and McKamey five.

Also at the same meeting, the commission voted to appoint Commissioner Shelly Vandagriff as vice-chair.