Oak Ridge region champs in Rang's first season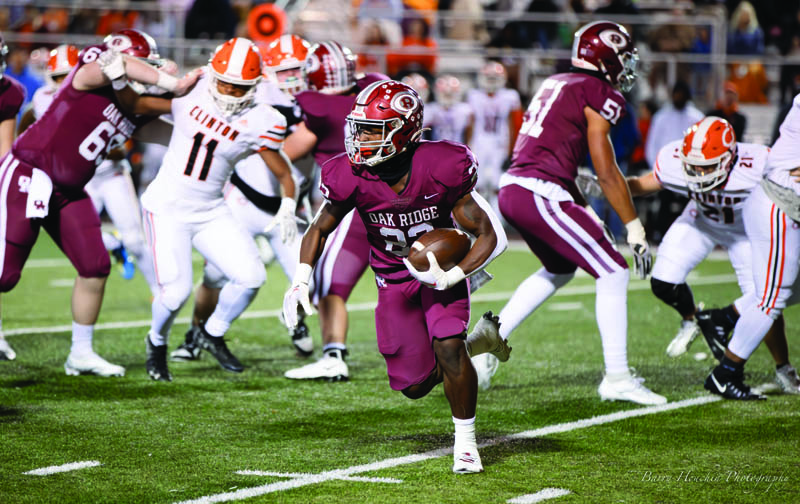 Streaks are made to be broken, but Oak Ridge High School's football team saw its recent dominance over a rival come to an end Friday night.

The Region 3-5A Champion Wildcats had an offensive power outage at the worst time as they couldn't score after halftime against longtime rival Clinton.

The result was a 21-12 loss in the second round of the playoffs at Blankenship Field.

"We just couldn't get things going offensively in the second half," ORHS Coach Derek Rang said after the Wildcats saw their 14-game winning streak against the Dragons come to an end. "We would have a play and then we would get behind the chains.

"We had been a second-half team all year, and we just couldn't get anything going in the second half. I take full blame as the head coach. This sucks right now."

The Dragons (6-6) scored first when senior quarterback Joshuah Keith threw a 19-yard touchdown pass to Bryson Maddox with 7 minutes, 33 seconds remaining in the first quarter. Clinton, however, would miss the extra point.

The Wildcats (9-3) would answer when Brandon Heyward returned the ensuing kickoff 82 yards to the end zone and Eli Mitchell would add the PAT to give Oak Ridge a 7-6 lead with 7:21 to go in the frame.

Oak Ridge had another big play early in the second stanza when sophomore quarterback Blaine Stansberry threw an 85-yard scoring strike to Almani Rembert.

Pearson's extra point extended the Wildcats' advantage to 14-6 with 9:17 left until halftime.

Midway through the second frame, the Dragons would pull to within two, at 14-12, when Keith found Maddox again, this time from 41-yards out, before the Wildcats scored on a 4-yard run by De'Jauvis Dozier to make it 21-12 at the break.

After a scoreless third quarter, Keith punched Clinton's ticket to the state quarterfinals with a pair of one-yard touchdown plunges. With the win, the Dragons advance to the quarterfinals for the first time since 1992.

Clinton will host Walker Valley (10-2) Friday at 7 p.m. The Mustangs defeated Lenoir City 37-11 last week and won the Region 4-5A Title.